We believe in the ability of art to transform the workplace into a more aesthetic, creative and productive environment.
This belief is increasingly supported by the Research we and others are carrying out and we would like to share these findings with you as they become available.
MAKING ART WORK IN THE WORKPLACE
IAC partnered with the British Council of Offices to produce a report on the latest trends and best practice in art in the workplace. 1500 BCO members were surveyed and in depth interviews carried out with leading architects, interior designers, psychologists and corporate occupiers.
The survey supports the following key findings:
Art programmes still being implemented and maintained despite recession
Art creates a more welcoming work space and aids staff retention
Art when selected by staff measurably increases their productivity
Art is a sophisticated and powerful brand communication tool
Artwork can be deployed even in flexible, agile work environments
Recent Events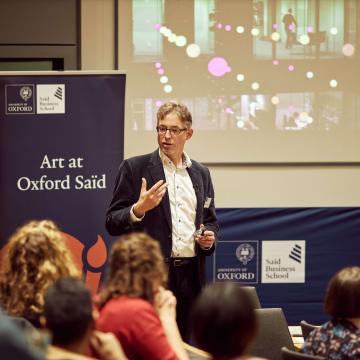 DECEMBER 2019
How to make the most of art in the workplace
Seminar at Said Business School given by Alex Heath and Dr Craig Knight.
Read the full article here»
A full video of the joint presentation is available at here»
Archive
JANUARY 2016
Art Works: Guardian feature on office productivity features IAC
Read the full article here»
DECEMBER 2013
The Secret Weapon of Office Art
Workplace art insights featured on Metro Newspaper
Read the full article here»
NOVEMBER 2013
Art Attack: Flybe in-flight magazine features IAC
MARCH 2013
Alex Heath comments on how art stimulates workforce
MARCH 2013
Session includes a tour of the striking artwork at Barclaycard.
FEBRUARY 2013
HR magazine Personnel Today features research findings.
FEBRUARY 2013
Tomorrow's Magazine reveals benefits of art in the workplace.
FEBRUARY 2013
Jenny Brewer interviews Alex Heath about benefits of art in contemporary office spaces.
FEBRUARY 2013
Facilities Managers are provided with a valuable tool to succesfully manage art in the workplace.